GEOS is expanding it's horizons including branches of:
Clean Energy Water cracking generators
All Grain Survival granola meal bars for people worldwide
Geo's Restaurants - A mass produced fast food company.
Frozen food bars in American, Italian and Mexican varities.
Earth Modules - High tech structures for surviving extreme environments on Earth and other space applications.
"Building Geodesic Domes" Book from South East Domes $14.95 PDF File sent to you by E-Mail
Build any size 3 frequency dome kit yourself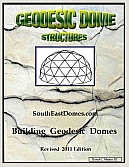 "Building A-Frame Homes" Book from South East Domes $14.95 PDF File Includes CAD plans for an 18 x 24 a-frame kit

SouthEastDomes@aol.com 24 hour send time